We have some exciting news to share!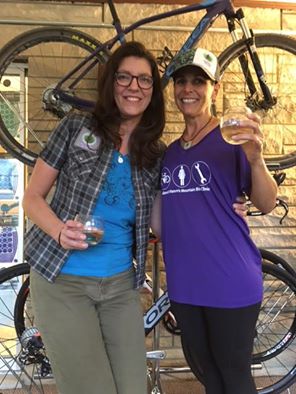 After 11 wonderful years, the time has come to pass the Midwest Women's Mountain Bike Clinic on to the amazing Sally Marchand Collins and her Sundance Mountain Bike Skills Clinics!

Stay tuned for all the info coming soon for the 2017 event!

-----------------------------------------------------------------------------------------------------------

A brief history of how it all began.

Hard Working Mother of Two Makes Strides to Get More Women on Bikes!
Written by Lindsey Voreis - Specialized AllRide Tour 2012

*** *** *** *** ***

When you think of mountain biking, places like Indiana may not intuitively pop into your head. I recently discovered Indiana does indeed have great mountain biking, but more importantly, it has a woman on a mission to get more women on bikes safely.
Tania Juillerat decided to try mountain biking in March 2005 at the ride age of 26. She hadn't ridden a bike since she was 12, and that first taste of dirt had her hooked and wanting more. Struggling to find someone other than her (now) husband to teach her, seven months into her new passion, she put on her first women's clinic. She wanted to provide a place where women interested in mountain biking could learn skills together and meet people to ride with.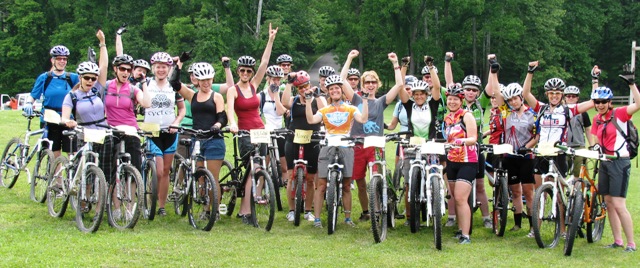 Her first clinic in October 2005 had nine participants with three local, experienced riders teaching skills at a small trail in Indianapolis. The ladies loved it so much they asked for another and the following spring she put on her second clinic with 13 participants. A year later, in June 2007, she officially started the Midwest Women's Mountain Bike Clinic that has steadily grown from 30 participants to over 100 in 2012.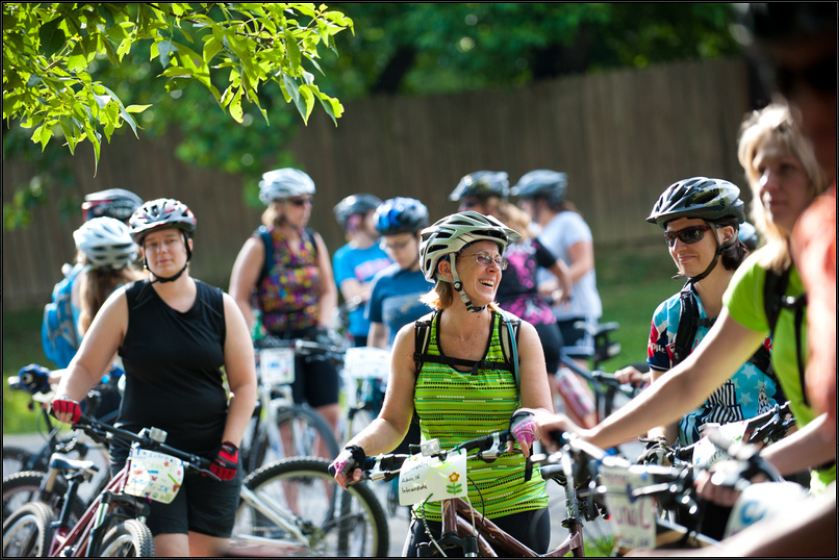 Over the past seven years Tania has put a lot of thought and effort into making this women's clinic one of the best in the country. She adds special details like a craft station for decorating nameplates while others register, a bicycle clothing swap table and raffle prizes galore. It's the special touches that create a comfortable and inviting environment before the clinic begins.
"Each year I do my best to build upon the little successes (and sometimes failures) to make each clinic better than the last. Whether it's fine-tuning the schedule, bringing in new coaches or adding a new component to the event, I'm always looking for the best way to give everyone quality instruction in a fun and casual atmosphere", says Tania.
Another perk is she offers a teacher training course for anyone who wants to learn how to teach or guide rides. Tania explains, "I was so lucky to have Tamara Peloquin from Mad March Racing volunteer to coach at the 2009 event. After the clinic she introduced me to the International Mountain Bike Instructor Certification (IMIC) Program. The IMIC (now the IMBA-ICP) is a course for people to learn the skills to teach mountain biking in a uniform way. They offer certifications as a mountain bike coach, master instructor and ride guide."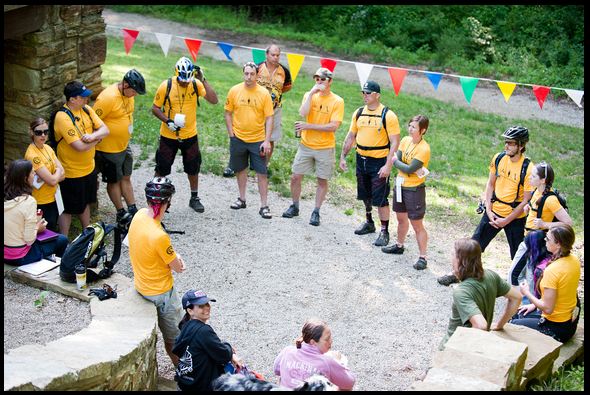 Tania now requires all coaches to be certified to teach, thus keeping the teaching language the same. She is selective with her coaches and knows how to match the right coaches with the right personalities and skill levels.
She knows her audience: "Most of our participants are recreational riders, so the clinic has been formatted with that in mind. I was still a beginner myself when I started doing these clinics, so I focus my attention on what would make a new rider the most comfortable. It's easy to scare someone away from the sport if they are put into a stressful situation when they are unsure to begin with, so I try to make the entire event as welcoming and encouraging as possible. As the clinic has grown over the years, I've been able to bring in quality coaches like Lindsey Voreis (Shaums March, Tammy Donahugh, Lindsey Beth Currier, Angi Weston, Gale Dahlager, Rae Gandolf and more) and we can now accommodate every level of rider!" she says.
-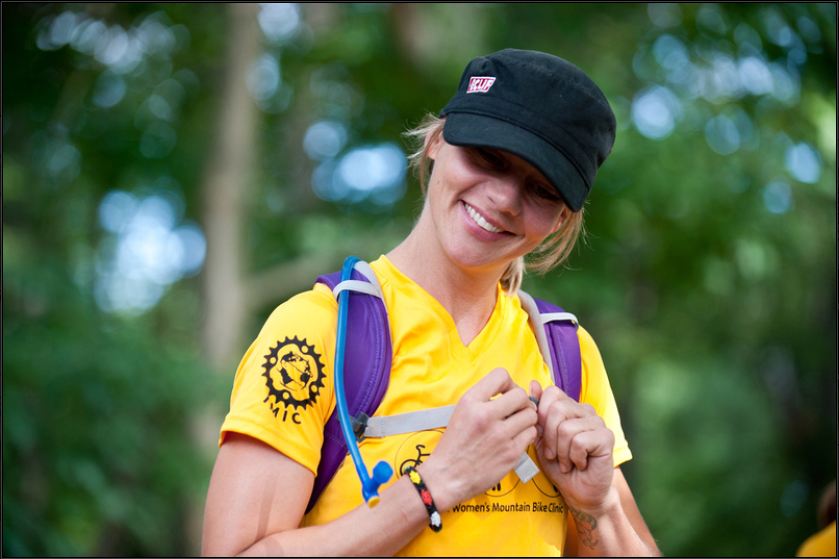 I was excited to be invited to teach the advanced group at the 2012 Midwest Women's clinic, but I had yet to earn by IMIC. I flew to Indianapolis, IN prior to the clinic and took the three-day course through Shaums March. It was a great experience and I proudly earned my second teaching certification! (I am also certified through Zep Techniques - PMBI -Professional Mountain Bike Instructor cert).
Teaching at this clinic was a special experience. The participants and coaches camped together at the trail head in the middle of a beautiful park in Indiana and talked bikes and life into the night. With an age span from six to 66, women came from all over the country to Brown County State Park to learn new skills on bikes. They gained confidence with each skill learned, rode great trails and shared the mountain bike experience with other eager women.
From the brave 52 year old who learned to ride a bike just two years prior, lost 100 lbs and decided to try mountain biking at age 51, to the younger, seasoned racer who wanted to improve her technical and high-speed handling skills, this clinic had something for everyone and a little bit more. Tania is the perfect example of taking charge to get more women into mountain biking. She understands the power of the bicycle and is joining the mission to make the work a better place one happy female mountain biker at at time.
As I traveled the globe last year teaching at different women's clinics I witnessed a very common theme in each experience; mountain biking changes lives and makes women feel great! After mountain biking changed my life, I am more passionate about seeing it happen to others.
On my last night in Indiana, Tania and I sat on her back porch and reminisced. We clinked our wine glasses and stared at the reflection of the moon glistening on the lake behind her house. At that very moment, her dog Daisy came squealing up to us reeking of freshly sprayed skunk. This was an unforgettable ending to a flawless weekend teaching women how to shine with two wheels and some dirt.
*** *** *** *** ***